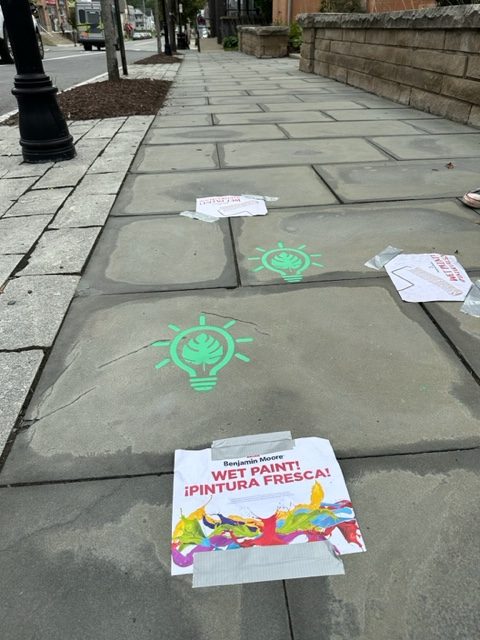 Valley In Motion supports green infrastructure development that encourages more residents to walk, bike, and access recreation. The Lackawanna Valley has bountiful natural resources. All residents should have easy and equitable access to them.
Electric City Trails is one way we advance this work.
Electric City Trails is an urban trails project, the first of its kind in Scranton. It is intended to encourage daily walking and biking for both residents and visitors. There are two routes, one for walking and one for biking.
Walking Trails
The trail is marked with traditional wayfinding signage and painted "footprints" along the sidewalk. Signs include directional arrows, estimated walking times to featured locations, and grade changes, so that trail users can plan their routes accordingly.
On the map above, each circle designates the location of wayfinding signage. As a nod to Scranton's "Electric City" nickname, this trail signage features a lightbulb design.
The walking trail has two loops. Both start at the corner of Lackawanna and Cedar Avenues in downtown Scranton. The Iron Furnaces Link (in red, above), with red footprints and signage, traverses historic Lackawanna Avenue, connecting to the Lackawanna River Heritage Trail at 7th Avenue. Walkers exit the trail on Broadway Avenue, then turn left to go past the massive wall along Mattes Avenue. Formerly a locomotive shop, this industrial complex now houses critical defense manufacturing. Walkers then turn up Cedar Avenue, past the historic Iron Furnaces. This loop is two miles.
The Nay Aug Park Link (in green, above), with green footprints and signage, starts at the Scranton Hilton hotel. From downtown, it goes up Mulberry Street through the University of Scranton. Just past Geisinger Community Medical Center, Mulberry Street terminates at Nay Aug Park, a 73-acre park in the city's Hill Section. As you enter the park, grab a coffee at the Blackwatch Cafe (hours, 8am to 4 or 5pm, Tuesday-Sunday). Walkers follow the Davis Trail, high above Roaring Brook Gorge, with terrific views of Nay Aug Falls and century-old railroad tunnel, still in use. After looping through Nay Aug Park, head back down Mulberry Street to complete the 3-mile loop.
Biking Route
The biking route is still under development, but will soon have signage marking the six-mile loop. This loop utilizes low-traffic streets to connect riders to both the Lackawanna River Heritage Trail and Nay Aug Park. It also passes the historic Iron Furnaces, and utilizes little-used Lauren Line Drive that parallels railroad tracks that for decades connected passengers to Wilkes-Barre and other regional stops.
Electric City Trials has been generously funded by the Willary Foundation, City of Scranton, Fidelity Bank, Pocono Forest & Waters Conservation Landscape, Department of Conservation and Natural Resources, Pennsylvania Environmental Council, and Eureka Foundation.
The Iron Furnaces Committee partners all contributed to this project, including Pennsylvania Anthracite Heritage Museum, Lackawanna Heritage Valley Authority, University of Scranton, City of Scranton, Lackawanna County, Lackawanna River Conservation Association, Scranton Tomorrow, and United Neighborhood Centers. Numerous businesses and organization have helped to implement this project, including Scranton Municipal Recreation Authority, Geisinger Community Medical Center, the Hilton, and many other businesses and homeowners along the trail routes.
Iron Furnaces
The Electric City Trails project is the first step of a larger effort to revitalize the area around Scranton's historic Iron Furnaces. Founded in 1840, the city of Scranton grew up around this site, once the hub of the nation's largest output of iron products. It created pig iron, T-rails, and other products that fueled the nation's industrial growth.
Following a visionary set of planning documents developed by DxDempsey architects, VIM leads the coalition to once again place the Iron Furnaces at the intersection of Scranton life. New opportunities for transportation, recreation, business, and education will improve both quality of life for city residents and the visitor experience.
This work involves five concurrent phases, each moving forward as partnerships and funding allows:
Sidewalk painted footprints that lead visitors from downtown Scranton hotels past the Iron Furnaces to the trail (a 2-mile loop) or to Nay Aug Park (3-mile loop).
Bike lanes leading from the Broadway Street trailhead, looping behind the Iron Furnaces to the University of Scranton and Nay Aug Park.
A walking and biking trail running through the Iron Furnaces property, along the trolley line tracks to the University of Scranton.
Updated lighting, sidewalks, signage, plantings, and bike lanes to improve Cedar Iron District streetscapes in front of the Iron Furnaces and up a revitalized Cedar Avenue.
A new Roaring Brook trail that connects the Elm Street trailhead to Cedar Avenue and the Iron Furnaces.